IN BOOKSTORES NOW
click to order from amazon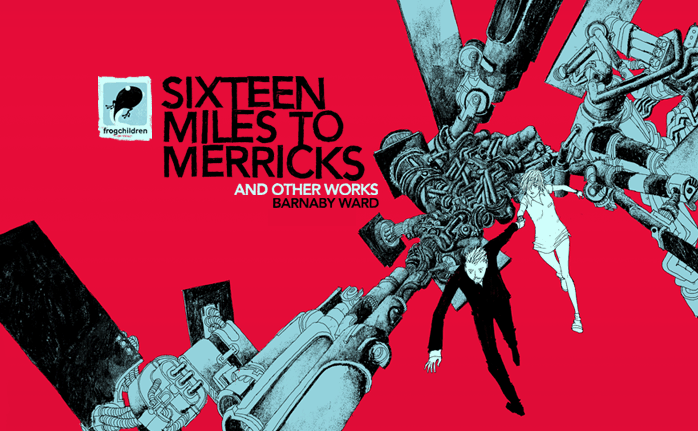 "Ward's art is absolutely enchanting."
-
Publisher's Weekly
"Art appreciators take note, Barnaby Ward is someone to look out for."
-
Ain't it Cool News
"Merricks and Barnaby Ward are the greatest debut of 2008 thus far, and undoubtedly the most beautiful
small press book this year, bar none."
-
Broken Frontier
"Merricks strikes a balance you pray for with graphic novels."
- Geek Magazine

"I can't recommend Sixteen Miles to Merricks and Other Works enough. The storytelling is so rich and
imaginative, utilizing the medium to its fullest, while also being just as emotionally resonate as some of the
best works of fiction."
-
Comics Bulletin
"It's got a nice, steady drive to it that, combined with its growing sense of unease sets up a fine tension that pulls
you through the book. It's all about the momentum.... He's onto something here."
-
Newsarama
"Beautiful drawings, beautiful women, I couldn't stop turning the pages."
-
Jeff Smith
Bone, RASL
"Barnaby Ward mixes the class and glamour of european illustration, with the flair and originality of Japanese
manga to create wonderfully compelling and stunning pieces of art!"
-
Ashley Wood
Popbot, Metal Gear Solid
"Barnaby Ward has the design sense and color palette that I would kill for, and If I ever meet him in person
I'll probably do just that."
-
Dave Johnson
100 Bullets, Batman
"The mind of Barnaby Ward must be very much like the streets of the Barbary Coast: filled with lurking dangers and
surreal realities that tantalize your eye while plucking your nerves like the strings of an old guitar. It's as if, for a short
time, you're allowed to see through the eyes of Alice, the White Rabbit, and the Queen of Hearts all at once, with
Ward's twisted line work heightening the excitement of your slide down the rabbit hole."
-
Scott Morse
Spagetti Western, Soulwind
"That Barnaby fellow has the imaginative design chops of an Art Ninja! I would hate him if I hadn't decided to love him."
-
Dan Hipp
Amazing Joy Buzzards, Gyakushu
"I love the worlds Ward creates, you get the feeling you've visited them before on some oneiric trip, they're in our head
deep down there, strangely he seems to have access to them. Barnaby lets his layouts breath and stretch their legs in
beautiful full panel pages, the sense of scale in these is powerful and inspiring. His short stories and illustrations in the
second part of the book are also absolutely stunning, "Rooftops" is a total stand out. Fantastic!"
-
Enrico Casarosa
Pixar

"The stark, surrealist atmosphere of Barnaby's art is quite captivating. It manages a perfect balance between cinematic
world building and graphical minimalism."
-
Dave Roman
Agnes Quill